Course

Students

This course is for the students who want to go to vocational college, university or graduate school after 2 years of studying Japanese from the very basic.

Enrollment

Subject

J

apanese language

(Kanji, Grammar, Reading, Writing, Listening, Speaking)

Preparation for Graduate School Entrance Examination

Class Times

5 days / week(From Mon.~Fri.)

5 hours / day (9:10~15:00)

Total Hours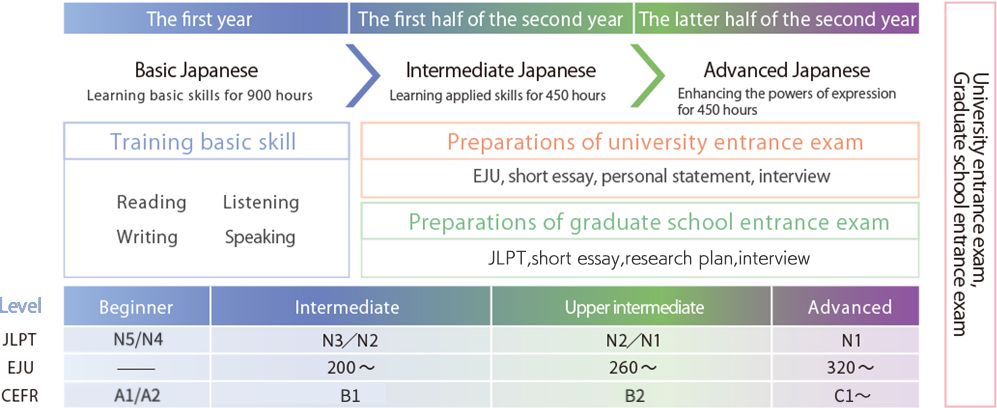 3 Months from Enrollment
Lesson Time


Contents

Mon

Tue

Wed

Thu

Fri

1st

period

9:10-10:00

 

Elementary Japanese


(Kanji, Grammar, Reading , Writing, Listening , Speaking)

2nd

period

10:10-11:00

3rd

period

11:10-12:00

Lunch Time

12:00-13:10

Lunch Break

4th

period

13:10-14:00

 

Elementary Japanese


(Kanji , Grammar, Reading, Writing, Listening, Speaking)


5th

period

14:10-15:00

     

3 Months ~ 18 Months from Enrollment

Lesson Time

Contents

Mon

Tue

Wed

Thu

Fri

1st

period

9:10-10:00

Intermediate Japanese


(Kanji, Grammar , Reading, Writing, Listening, Speaking)


2nd

period

10:10-11:00

3rd

period

11:10-12:00

Lunch Time

12:00-13:10

Lunch Break

4th

period

13:10-14:00

 Preparation for EJU(Japanese), JLPT, University Entrance Exams, etc.

5th

period

14:10-15:00

After 19 Months From Enrollment

Lesson Time

Contents

Mon

Tue

Wed

Thu

Fri

1st

period

9:10-10:00

 

Upper Intermediate Japanese


(Kanji, Grammar, Reading, Writing, Listening, Speaking)

2nd

period

10:10-11:00

3rd

period

11:10-12:00

Lunch Time

12:00-13:10

Lunch Break

4th

period

13:10-14:00

 Preparation for EJU(Japanese), JLPT,
University Entrance Exams (Application, Interview), etc.

5th

period

14:10-15:00
April

Orientation for new students

Health checkup for new students

May

Disaster prevention drill for new students

June

EJU (first time of the year)

July

JLPT (first time of the year)

Extracurricular activities

Guidance to further education and carrier

August

Regional exchange activities

September

October

Extracurricular activities

Individual counseling

November

EJU (second time of the year)

Student presentation

December

JLPT (second time of the year)

Guidance to further education and carrier

Winter vacation

January

February

Semester final examination

March

Spring vacation

Individual counseling
| | |
| --- | --- |
| Admissions Fee | |
| Entrance Fee | |
| Tuition for One Year | |
| Teaching Material Fee | |
| Extracurricular Activities Fee | |
| Facility Fee | |
| Total Expense for the 1st Year | |
After Certificate of Eligibility for Resident Status has been issued, please pay before the specified deadline.
※Tuition does not include the fee of the graduation party and the graduation album.
※If you want an airport pickup service, the extra fee is required.
※The insurance fee is also required,(

about 10,000 yen

a year).
【Original】Learning Encouragement Award
  Learning Encouragement Award ⇒


Other scholarship:
 Scholarship for Privately Financed International Students by Japan Student Service Organization (JASSO)